Selection's Silvaner tasting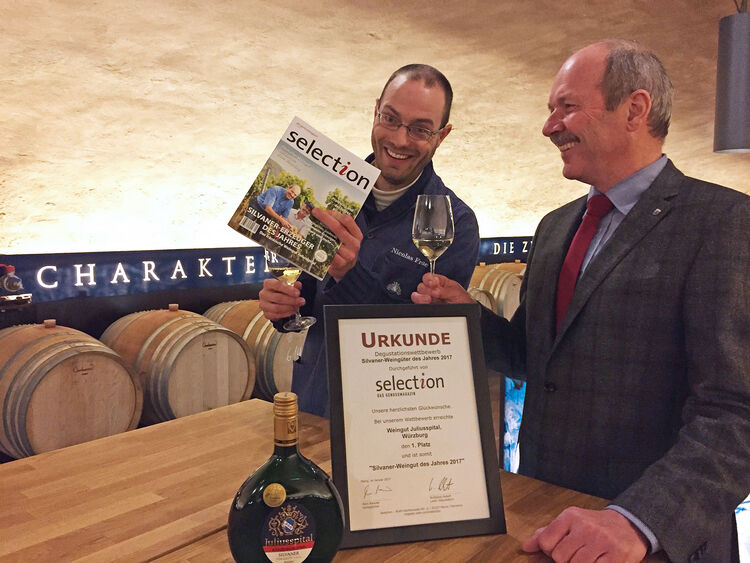 Each winery was allowed to enter five Silvaner of the current the collection for the blind tasting, the winery with the best average score receives the title.
The Juliusspital now cultivates Silvaner in 17 different vineyard locations in Franconia, in several vineyard plots of varying size and individual terroir. By now, the Silvaner grape variety accounts for around 43% of the Winery's selection of wines.
Depending on the vintage and yield, the wine list contains 12 to 15 different Silvaner wines as VDP.GUTSWEIN, VDP.ORTSWEIN, VDP.ERSTE LAGE or as VDP.GROSSES GEWÄCHS.
The Juliusspital is not only the largest Silvaner vineyard in Germany, but also a company that works tirelessly every day on its Silvaner profile.
True to the motto: Juliusspital - the winery that knows its Silvaner.
With this special attention in mind, the team is of course delighted about the Silvaner's increasing popularity, as it has just had an excellent run. The entire wine world as well as the unbroken demand certifies that not only the Juliusspital can look forward to a very good future with this grape variety.
Horst Kolesch, Head of the Juliusspital Winery, on the advantages of the Franconian leading grape variety: "With its regionality, the Franconian Silvaner ideally complements the leading German Riesling variety. The Silvaner shows, especially in Franconia, depending on soil types and small climates, a wealth of facets that is still too little known in other growing regions. Silvaner varieties range from a light, spicy, almost Riesling-like type of character to an uncommonly substantial, mineral, burgundy-like dry quality of the VDP.GROSSES GEWÄCHS or the VDP.ERSTE LAGE. Not to mention the compact and with exotic notes well balanced noble sweet wines from Auslesen to Trockenbeerenauslesen with great complexity and long lasting acidity. There are very few varieties that can reflect a region as beautifully as the Silvaner".

The best Silvaner of the Juliusspital in the award ceremony:
2014 Iphöfer Julius-Echter-Berg Silvaner VDP.GROSSES GEWÄCHS
2015 Würzburger Stein Silvaner VDP.ERSTE LAGE
2015 Iphöfer Kronsberg Silvaner VDP.ERSTE LAGE