January 2019
·
Press release
A successful start into the year 2019!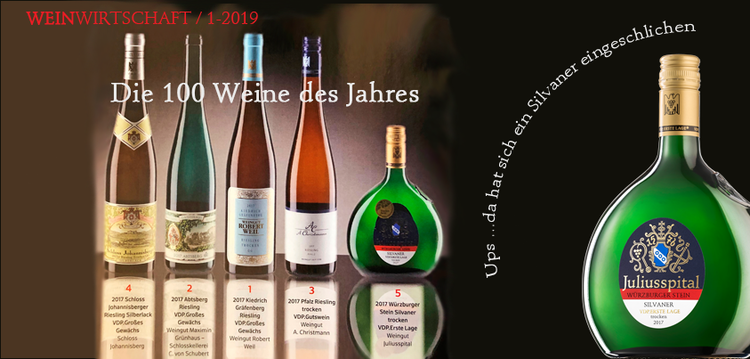 The 100 wines of the year
The most successful 50 white wines and 50 red wines of the 2018 vintage.The question is: which wine, in addition to quality, also sums up price and image in equal measure? The demands of this tasting are high every year. Quality, value for money, tradition but also market significance, image and the appearance of the producers are in focus.The first and most important criterion for the wine selection is quality, but also nationwide distribution of the respective wines, so that they are available for customers in gastronomy or specialized retail. Eight German white wines are among the Top 10, among them seven Rieslings. With the Würzburger Stein Silvaner, the Juliusspital shows the best placed non-Riesling.

5th place
2017 Würzburger Stein Silvaner dry VDP.ERSTE LAGE
2017 Würzburger Silvaner dry VDP.ORTSWEIN achieved 17th place in the list.